Written on July 5, 2013 at 12:00 pm by Michelle
Filed under:
Giveaway
As it is BlytheLife's birthday month, what better way to celebrate than with presents? I personally think that's a great way of doing it! It's a small token of appreciation from me to you as a way for me to say thank you so much to everyone for all of your support! It's been a busy three years as I've gone through this blogging adventure with you all.
Up for grabs is a cute little hand knit cardigan that I knit up myself. It's white with working pockets and 3/4 sleeves. It is this hand knit cardigan in particular: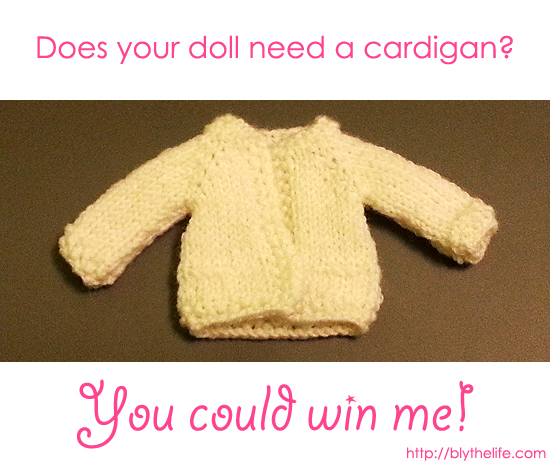 The giveaway runs until Saturday July 13th 2013 at 11:59pm Pacific. The winner will be announced here on BlytheLife.com on Sunday July 14th. Remember to use a valid email address for all comments. If you win, I will contact you for your mailing information and get your prize out to you as soon as possible.
Please only use one email address per person, those using multiple email addresses for more entries will be disqualified.