Written on September 5, 2014 at 12:00 pm by Michelle
Filed under:
Article
with tags:
tiny shoe love
It's time for another Tiny Shoe Love! And we all know how much I love shoes – just a tiny reason why Sophie is so interested in shoes as well. In the first installment of Tiny Shoe Love, I featured Monique Magnifique's stock heels and vintage dark brown squishy Barbie boots. What are you in store for this time? Very happy that you asked!
Stock engineer boots from Jackie Ramone (Middie):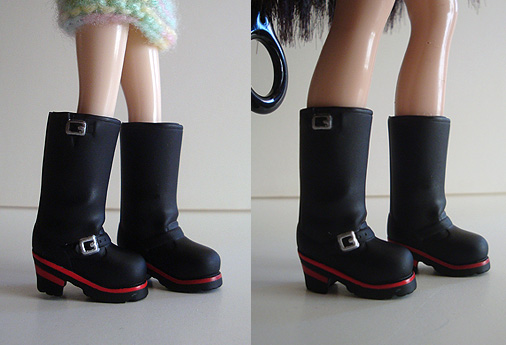 Left: on Jackie Ramone (Middie), Kitty Brighton. Right: on Love Mission (Blythe, EBL), Belarus.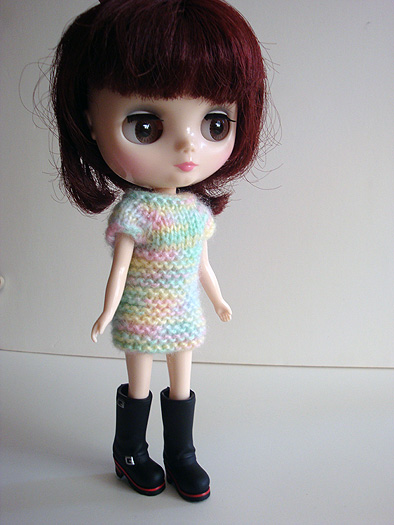 Sweater dress: by me (Michelle/chelleshocks). Boots: Jackie Ramone stock.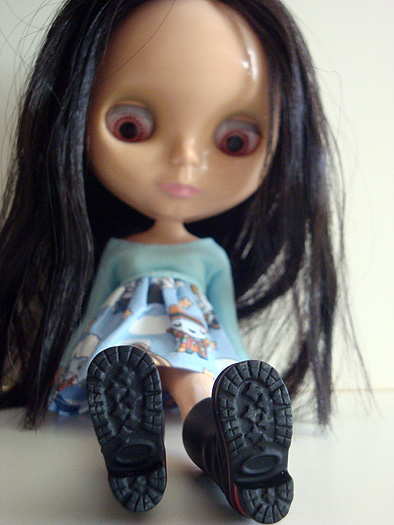 Dress: by ericaduh. Boots: Jackie Ramone stock.
It was a pleasant surprise for me when I got my hands on Jackie Ramone because I didn't realize that the Middie boots were so oversized that they could play double-duty as Blythe boots as well! On a Middie, depending on the angle, it's almost like she has borrowed her older sister's boots to play in. They go up, in my opinion, too high on a stock Middie body. They end right around where the knee joint would be (if she had knee joints), which seems much too high for this style of boot.
On a Neo Blythe though, they look like they 'fit' better overall. While I love the fact that both sizes of my dolls can wear them (they look horrible on Petites, by the way, I took the photo below for fun!), I think it would have been great if they had made a mold for an engineer boot that was more to the Middie foot size.
I was asked in an email to give more details about what my dolls were wearing – like who made the clothes, if I made them, link back to Etsy shops and whatnot. Let me know down below in the comments if you like the extra information about the dolly outfits!
Tiny Shoe Love is a feature on BlytheLife to showcase and share doll shoes that grace Michelle's picky dolls' feet. We love tiny shoes in this house, and we hope you do too!