Written on November 11, 2014 at 11:11 am by Michelle
Filed under:
Musings
I try to avoid talking about sad or negative things here on BlytheLife, if only because Blythe is a happy thing for me. In light of the recent attacks that have happened in Canada against two upstanding men who had given their lives for their country, it does make it hard to be quiet because despite the attacks being on the other side of the country – there are ripples that come out and touch every single Canadian when it comes to thinking about how safe we feel within our own borders, and thus I did want to highlight Remembrance Day – referred to as Veteran's Day in the United States.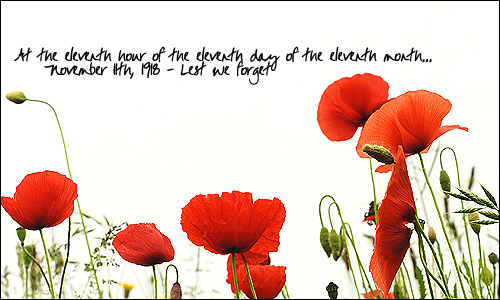 In Flanders fields the poppies grow,
Between the crosses, row on row,
That mark our place; and in the sky
The larks, still bravely singing, fly
Scarce heard amid the guns below.

We are the Dead. Short days ago
We lived, felt dawn, saw sunset glow,
Loved and were loved, and now we lie
In Flanders fields.

Take up our quarrel with the foe:
To you from failing hands we throw
The torch; be yours to hold it high.
If ye break faith with us who die
We shall not sleep, though poppies grow
In Flanders fields.

– Lieutenant Colonel John McCrae, 1915.