Written on November 26, 2014 at 12:00 pm by Michelle
Filed under:
Article
with tags:
holiday shopping guide
Welcome to the 2014 Blythe Holiday Shopping Guide! This is part 2 of a 3 part mini-series to help those who are trying to figure out what to buy for themselves, or what to buy for the Blythe-lover in their life. If you missed part 1, it was all about things that customizers might like to receive for the holidays!
This week is all about the every day Blythe lover. Not someone who necessarily sews, knits, crochets, customizes or any of that. Just someone who loves Blythe. Which is pretty much all of us.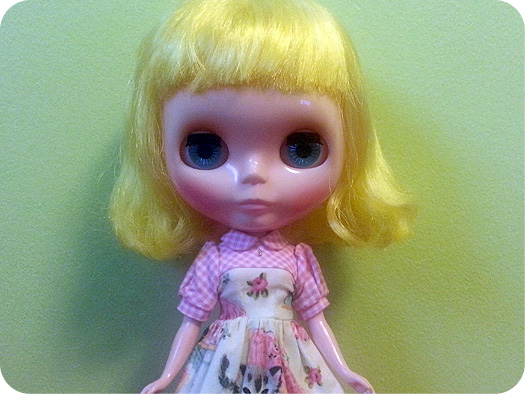 Minnow (a Hi-Ho! Marine RBL+) thinks that everyone should get a bright doll like her!
Minnow wears Plastic Fashion (dress).
1. A new Blythe. If the Blythe enthusiast in your life is anything like me, he or she heavily hints towards doll that they want all the time. For instance, I tend to send screenshots of Blythe photos that I'm crushing on the boyfriend on a fairly regular basis. He tends to think that I "quite a few dolls already", but I really do don't. Some dolls that I think would make fantastic gifts include: Kenners, Regina Irwen, Bianca Pearl, Hi-Ho! Marine, Cadence Majorette, or Scotty Mum. Just to name a few.
2. A new Middie. Maybe you've heard your Blythe enthusiast talking about these funny dolls that are shorter that Blythe. They also make fantastic holiday gifts. My personal favourite is Jackie Ramone, but I also think that Yellow Marshmallow or Alicia Cupcake would make great gifts as well! Bonus, if the opening of the stocking is big enough, an in-box Middie would make a pretty amazing stocking stuffer.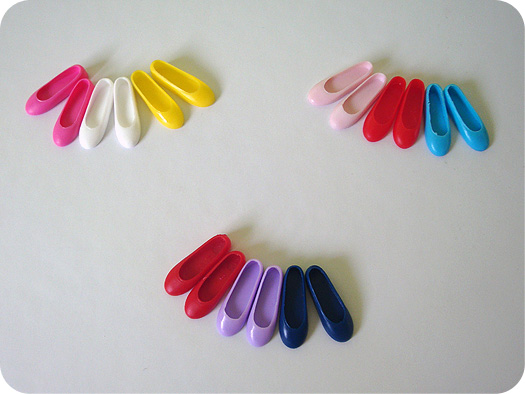 3. What is up with all the dolls on this list? Next is something that I would love to get: Vintage doll clothing & shoes. Get yourself over to some garage sales or flea markets, online to Craigslist or eBay and start looking for vintage Skipper clothing. You'll get bonus points if it's in fabulous condition. All vintage Skipper will fit the standard Blythe body (and can fit Licca bodies as well). The shoes will fit onto the standard Blythe feet, but not onto Licca (just too wide!), but the flats do look so cute and dainty.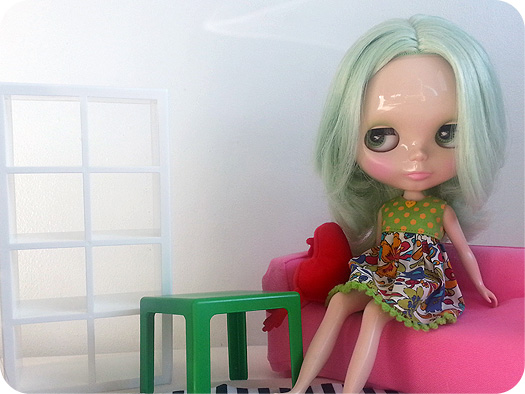 Tertiary Jane is wearing a dress by an unknown maker.
4. Hunting for vintage doll clothing not your thing? How about getting to your local Ikea (or online to get it delivered) and ordering your favourite dolly lover HUSET? It is a fantastic living room furniture set – I've reviewed it on the blog. I personally have one too many sets (is that possible?) and the pieces are very versatile! There's even people on Etsy who sell couch covers (if you're not partial to pink), along with throw pillows. Very cute! And gives the dolls a place to hang out besides on their stands.
5. Last, but certainly not least on the list of things that I think any Blythe lover would be happy to receive this holiday season… Storage or shelving. This could be in the form of a bookshelf, floating shelves, small set of plastic drawers, or sectioned off boxes to store things in. Organizational items are so great in the doll hobby. I personally love using plastic drawer sets to store clothes, and bead organizer boxes for all the doll shoes that I own (I also have a couple for beads as well, but that's neither here nor there).