Written on January 23, 2015 at 3:00 pm by Michelle
Filed under:
Article
with tags:
tiny shoe love
Shoes can complete an outfit. This is both true for humans and dolls. Unfortunately for me, I do not own 50+ pairs of shoes for myself. This is a very, very sad fact. Fortunately, doll shoes are amazing because they are small! And I can have many, many, many pairs of doll shoes in the same footprint as a pair of my-sized shoes would be. Foot print. Shoes. Get it? I crack myself up. *crickets*
I wanted to bring everyone's attention to some simply fantastic boots that I own. These are the stock boots from Art Attack. Not exactly easy to seek out, but they're pretty awesome. They are great in the fact that they are very easy to get on, because of the long zipper down the back.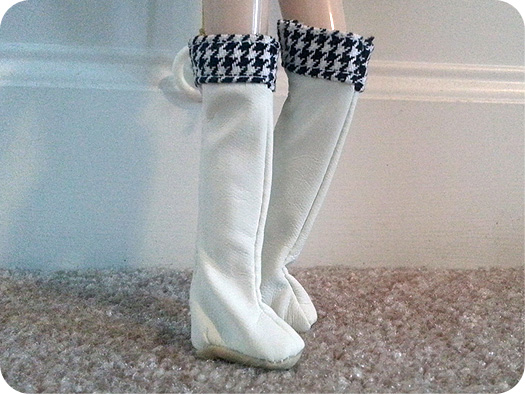 Simplicity at its best. It also helps that black and white go so well with so many outfits.
Tiny Shoe Love is a feature on BlytheLife.com to showcase and share doll shoes that grace Michelle's picky dolls' feet. We love tiny shoes in this house, and we hope you do too!