Written on February 11, 2015 at 12:00 pm by Guest Author
Filed under:
News
with tags:
community corner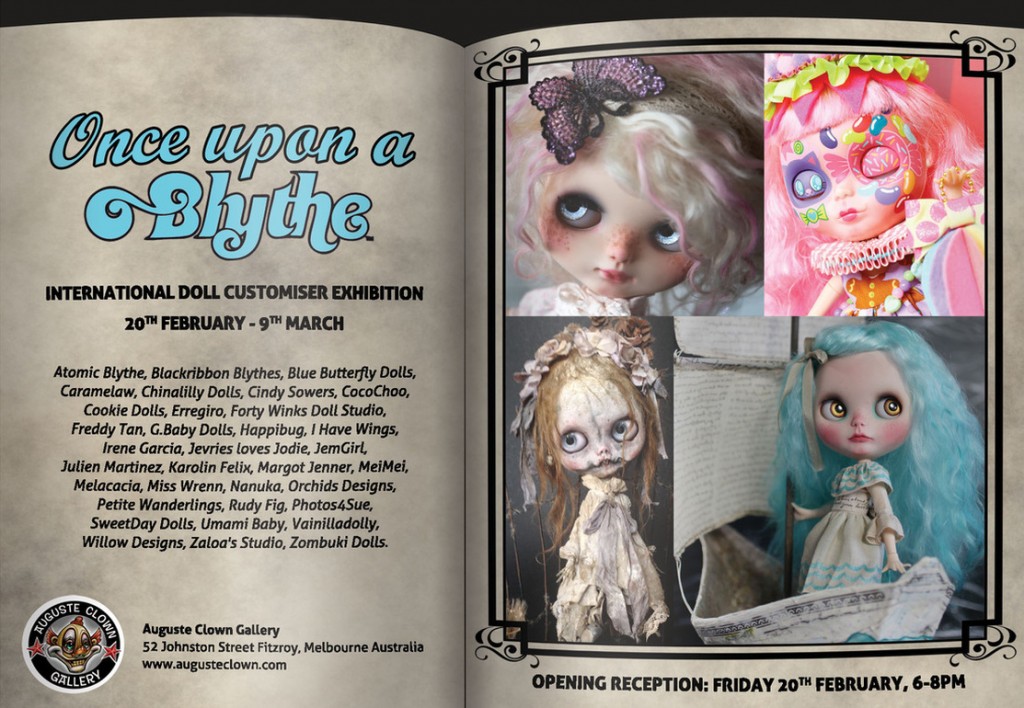 Blythe dolls will take centre stage in Australia as part of the highly anticipated Once Upon a Blythe international doll exhibition on show at Auguste Clown Gallery from 20th February – 9th March.
Featuring a storytale range of customised dolls on display and for sale, Once Upon a Blythe pays tribute to the big eyed beauty of Blythe while showcasing the finest talent in Blythe doll customization and artistry.
The original Blythe doll was released in 1972 by Kenner Toy Company in the United States, Japan and Australia. Forty years on, Blythe dolls continue to inspire artists, designers and photographers to recreate her look and personality again and again.
The Once Upon a Blythe exhibition will bring together the work of more than 30 doll artists from around the world and celebrate Blythe as the much loved collectable and fashion icon she has become.
"Once upon a time, there lived a girl named Blythe. She was known by all as the fairest in the land and people would travel from far far away to come and admire her. With curiously large eyes and a magical never ending wardrobe, Blythe loved to dress up and go on adventures. Fearless and fashionable, she lived happily ever after…"
Once Upon a Blythe Exhibition
Opening Night and Reception: Friday 20th February, 6pm
Presented by Auguste Clown Gallery
52 Johnston Street, Fitzroy, Melbourne Australia
Exhibition On view from 20th February – 9th March (free entry)
For the full artist list visit: http://www.augusteclown.com/upcoming.html
Do you have your own Blythe-related announcement that you'd like to share here on BlytheLife.com? Click here to find out what Community Corner is all about!