Written on April 10, 2015 at 12:00 pm by Michelle
Filed under:
Musings
I love spring and daylight savings and all the things that brings sunshine to me earlier and longer. I love sunshine. It makes for better photos outdoors, better photos indoors (when the curtains are open), and overall a better mood to be in. While I adore winter and the chilly air and the snow (which we did not get a lot of in my part of British Columbia – I'm rubbing it in, I know), there's nothing that beats sunshine and the warmth of the sun's rays on my face.
Sunshine, however, can be bad for Blythe. Hair colours can fade or change (Miss Sally Rice, anyone?) and it can also fade stock or custom face-ups (boo!). But it makes for a great addition for photos and making colours so much better in photographs. Gotta love it!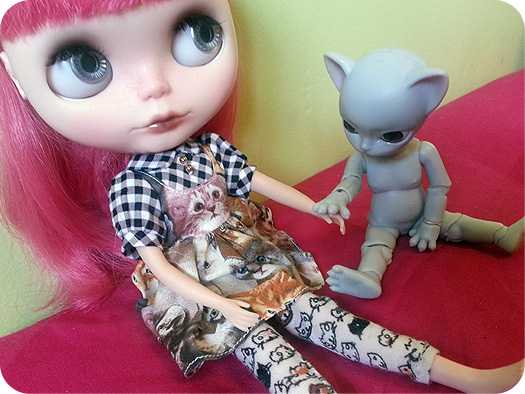 Taken with natural light (from a window), Cameo wears
Plastic Fashion (dress) and Endangered Sissy (tights).
Daylight, natural light, is always best for photos. I find that artificial light can alter colours in photos from their true selves. Of course, I can always correct these using Photoshop (something I do use when editing my photos). It's nice to have to do as much work with an image before using it though, because it just makes my life a lot easier! Three cheers for sunshine and better photos!