Written on July 17, 2015 at 12:00 pm by Michelle
Filed under:
Musings
A couple days ago, I was doing some Important Things™ for BlytheCon Vancouver when Chun of Puppy52Dolls surprised me with a print out of some artwork she had made recently. On our first visit to the Orphaned Wildlife Rehabilitation Society (O.W.L.), I had brought Prim with me and we had met this adorable Saw-whet owl named Snoopy. She was inspired by the cuteness of the owl and Prim's always messy hair and come up with this: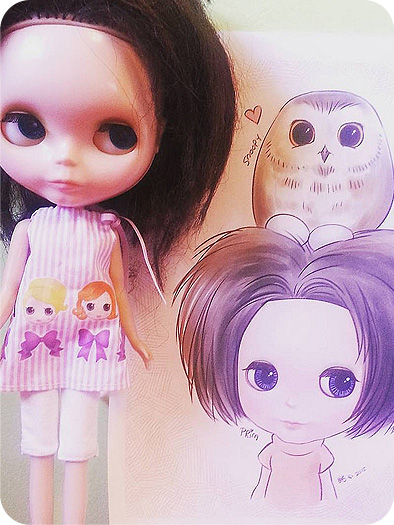 How cute is that?! Super adorable! I just love it, and honestly, Prim's head is just getting bigger and bigger every day. Or maybe that's just her hair? Either way, I absolutely love that Prim's been turned into fan art! It just tickles me and puts a smile on my face.
You'll be able to meet Princess Prim at the registration table (and me…), along with some real live owls (!) at BlytheCon Vancouver on August 9th! And don't forget to swing by Puppy52Dolls' vendor table, a little birdie told me that she'll have some fantastic items there!
Primrose's wearing: dress/Puppy52Dolls in BlytheCon Vancouver fabric, capris/Fancy Pansy stock.