Written on July 8, 2015 at 12:00 pm by Michelle
Filed under:
Musings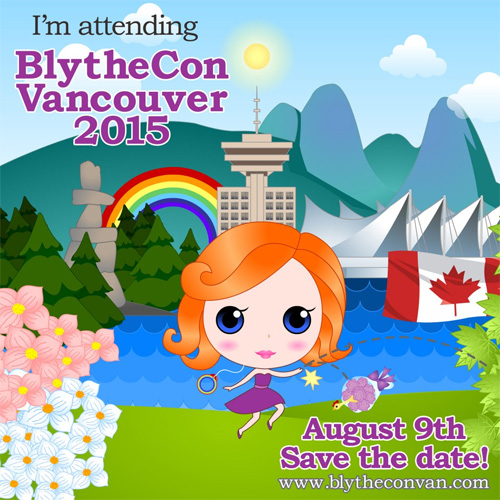 From today, it's 31 days until BlytheCon Vancouver! When I really think about it, I should be hyperventilating more.
There's a lot to do between now and then. Lots of things to do behind the scenes – like finalizing floor plans, figuring out where vendors will be sitting, stuffing goodie bags (the fun part!), making sure everyone knows what they're doing, and still managing to have fun the day of the event!
It is not too late to get your tickets! Online ticket sales end on July 31st! There will be door prizes, a raffle, a couple of contests (deadline to enter is July 15th!), and a few demonstrations for those who signed up! I'm really excited about it coming up, even though I feel like there's still a lot to do, because it means that the year-plus of work that we've put into this event is finally becoming evident and it's not just a pipe dream! (Apologies if you're getting tired of hearing about Vancouver if you're not going to be going, I'm just so excited about it!)
If you're coming and you see me when I'm in the ballroom (and not the registration table), be sure to mention BlytheLife! I'll be at the registration table for the first part of the morning, but when I'm walking around I will have some goodies on me for BlytheLife readers.