Written on August 19, 2015 at 3:00 pm by Michelle
Filed under:
Article
with tags:
Love Sophie
Dear Santa,
I am very pleased to be writing to you because Christmas has come early this year! Not only did I not have to get up at 5am to help set-up for BlytheCon (because I really think that beauty sleep is more important than a party), I also got some dresses! Michelle says that she bought them with me in mind – and I fully intend to keep it that way. (Michelle: Please, nobody tell her that one of the dresses came from my goodie bag!)
Not only that, I didn't get a new sister! I'm so excited that you really listened to me. (Michelle: Please, nobody tell her that I actually did bring a new dolly home – the custom Petite Blythe by I.G. Sirenita from the raffle! Apologies for the photo taken in poor light!)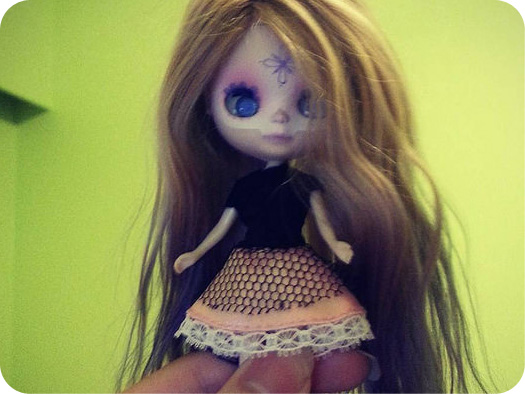 However, I would still very much appreciate it if you, Rudolph, and the rest of your reindeer gang could be very kind in sending me some sort of ice floe. I'd still like to send Eden and Prim out into open waters on one.

Sophie is a mostly stock Cappuccino Chat that came to live with me in June 2009. She loves shoes, new clothes, playing with her hair, fashion, magazines full of fluff and shopping. She aspires to be a model and would like to model for some of the 'great' dolly fashion houses one day.
Sophie's wearing: dress/Dollies Love Dresses, tights/Cool Cat.