Written on May 15, 2017 at 3:00 pm by Michelle
Filed under:
Question of the Week
It's just like me to open up a can of worms, but it is something to think about. For me personally, my most expensive doll was my (first) Kenner. She was an eBay auction that I was determined to win after having saved and set aside all of the over time that I had earned over the summer. In comparison, my two custom dolls (both bought secondhand, both are Friends With Blythe customs) were considerably cheaper compared to any of my Kenner Blythe dolls. This is in part to the fact that the customizer wasn't active in the community, and at the time wasn't a highly sought after artist.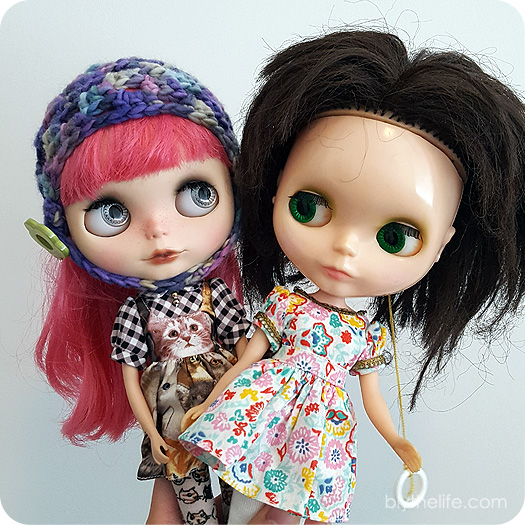 There are certain names, of which I'm sure you can think of right now, that command top dollar. When a doll starts hitting four digit price tags (especially before the conversion of USD $ to CAD $), I get a bit antsy. I'm always aware that the Canadian dollar is doing poorly compared to the American counterpart. That $30 doll dress turns into a $50-plus purchase after taking into fact the costs of shipping to Canada and the price conversion. With the way that the market currently is, and how poorly the dollar is doing, I'm highly resistant to actually buying new dolls right now unless it's an incredibly good deal – whether it be a Kenner, a custom, or a stock doll of any kind. The dollar isn't kind at the moment. However, I think for the right custom (or Kenner!), I'd be willing to open up my wallet. Chances are though, I'd spend more on a Kenner than a custom (but that's just where my personal preferences are).
Would you pay more for a custom or a Kenner?
Cameo's wearing: helmet/Cakewalk Queen, dress/Plastic Fashion, leggings/Endangered Sissy.
Prim's wearing: dress/Endangered Sissy, capris/Fancy Pansy stock.