Written on August 13, 2015 at 12:00 pm by Michelle
Filed under:
Musings
with tags:
blythecon
,
blythecon vancouver
The day started out very early for us – we got to the venue at around 7am to begin set up. BlytheCon Vancouver was hosted at the Sheraton Vancouver Wall Centre Hotel, located in downtown Vancouver, BC. It's a fairly central location in an area with a lot of hotels, a beautiful pubic park right in front, and easily accessible via public transit – all major selling points to us when we were deciding on a venue!
Vendors started coming in at 8am to start getting set up at their tables, and we had a small line-up forming of attendees who were eager to start having fun! Such early birds hoping to get the proverbial worm (or HANON dress, as the case may be):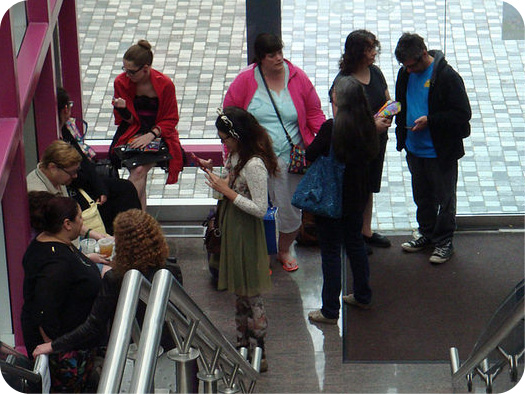 We had some photo displays set up for people to take photos, and some included props and stands or chairs so your own dollies could join in the fun! My favourite had to be the set up for the Vancouver 7 Kenner Blythe dolls. In the back is Lillian, Primrose, Heidi, and Chunk. In the front row and sitting is Dusty, Hayley, and Audrey. The fun thing about these dolls is that they were all originally owned by the same woman, and now they're all owned by members of the Vancouver Blythe Bunch (what we call our local doll group).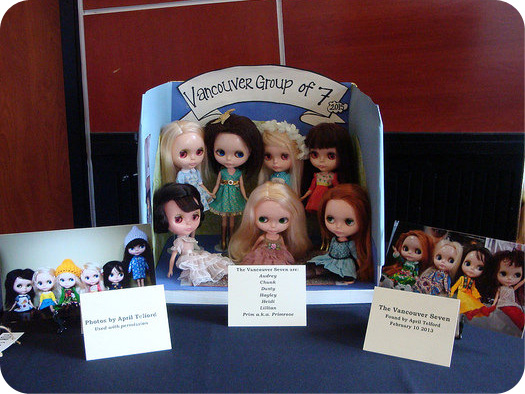 We had lots of votes for the photo contest! First place photo #3 (the one with the dinosaur bridezilla!), second place was #6 (the hungover bride in the wagon), and third place was #4 (appropriately titled "Shots!"). Congratulations to all of the winners and thank you to everyone who submitted an entry!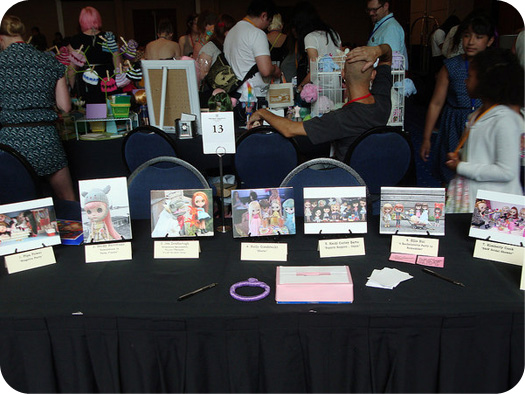 I don't have very good photos of all of the vendors (I need a better camera and to learn how to better use the one I already have…). Here is HANON's display: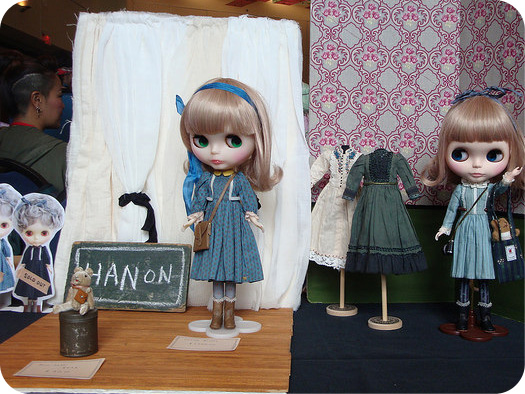 Chantilly Lace had three tiers full of dolls! It was so much fun to see her custom work, I love that she's one of those customizers who does a wide variety of styles: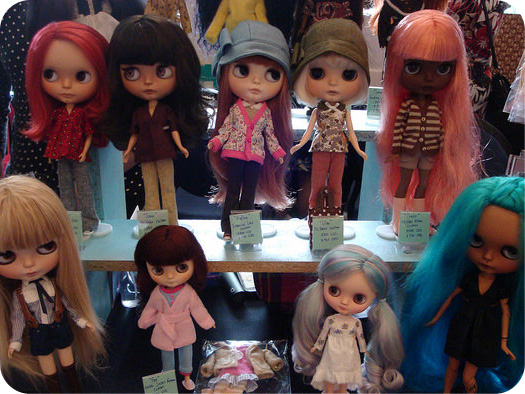 Blythe Spa Time had a lot of fun things going on at her table with some super fun hand-painted cards: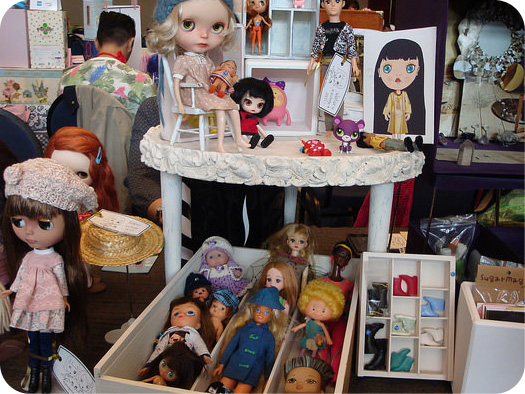 Rhododo's Nest had fun art prints and ears in sizes for dolls and their people! These were just so much fun, and I saw some people walking around with bunny ears on – so cute!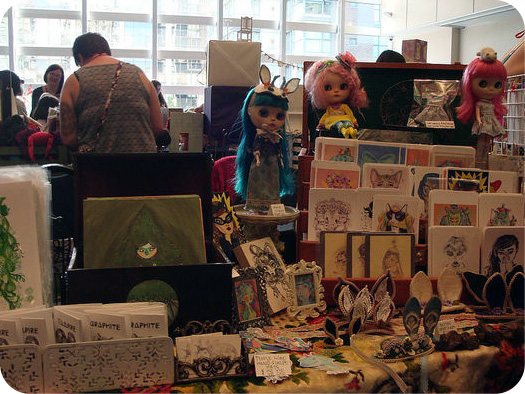 Lunch was catered by the hotel and it was amazing. I didn't remember to take photos of the spread, but JennyTheArtist did! The next three photos are by JennyTheArtist, used with permission.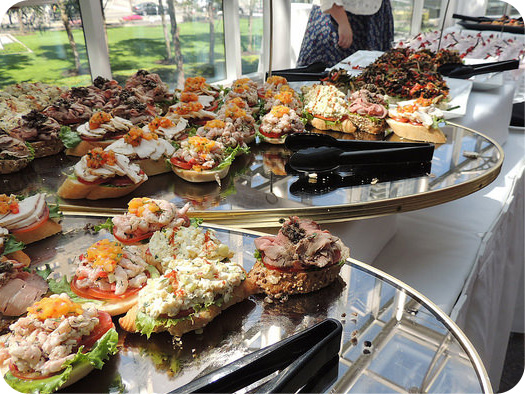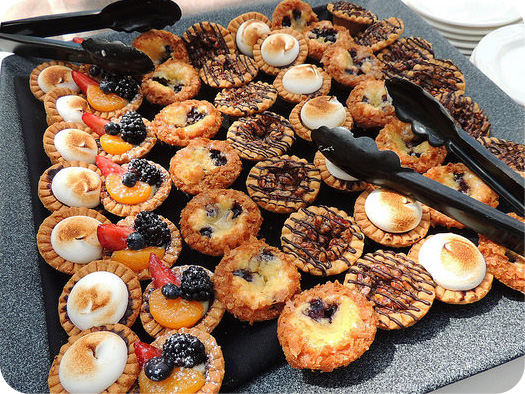 I loved the raspberry mousse (in the martini glasses!), and the tarts were to die for. My favourites of the tart were the lemon and the blueberry ones. So delicious!
The Orphaned Wildlife Rehabilitation Society (O.W.L.) had four volunteers and two of their educational birds there. They had some things for sale, and were advertising their fall open house at their facilities in Delta, British Columbia (September 19-20, 2015):
Three of the four organizers were judges for the outfit contest! We had some fun entries and it was great to see the creativity that people put into their outfits: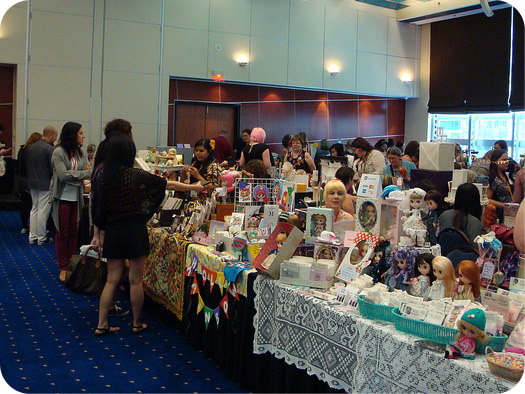 One of the things that made me fall in love with the venue was the ceiling: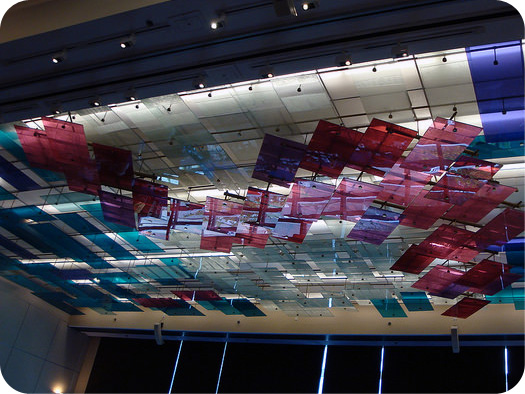 Finally, Eden makes an appearance! She wanted to be on Instagram…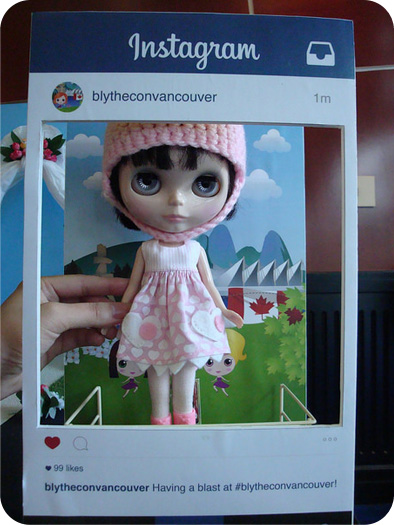 And she got her photo taken with Petey: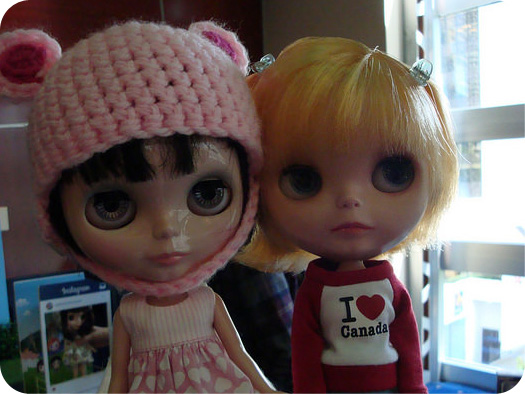 This is Alba, she's a barn owl that is also a permanent education bird with O.W.L.: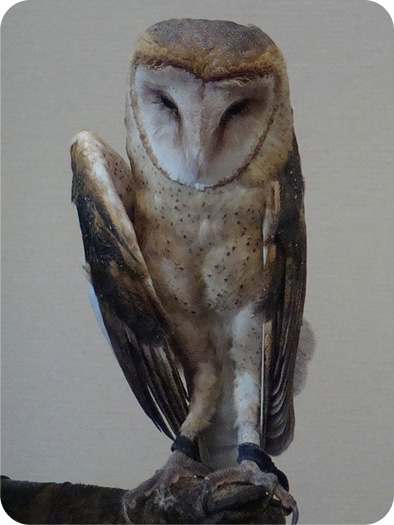 Right before we drew for door prizes, Eden snagged a photo with the BIG owl that O.W.L. brought along: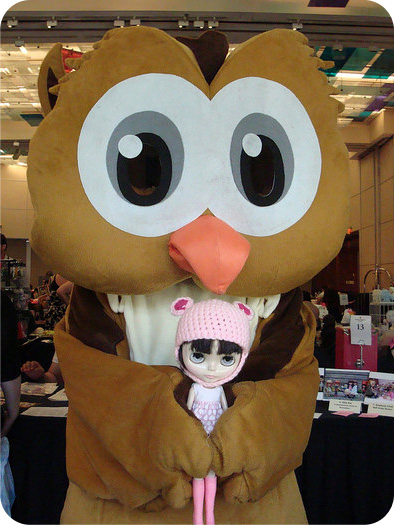 I had a lot of fun at BlytheCon Vancouver – but I do feel a bit biased saying that! I didn't manage to get good photos of Snoopy the Saw-whet owl, who was very cute and well-behaved during the Nicky Lad group photo! We will share photos taken by a professional photographer on the BlytheCon Vancouver website soon!
Lillian's wearing: dress/Plastic Fashion, shoes/Velvet Minuet stock.
Primrose's wearing: dress/Kult of Kulta, bow/Kult of Kulta, boots/Jemgirl.
Eden Mouse's wearing: helmet/chelleshocks, dress + cape/Buttonarcade, tights/unknown, boots/Barbie.