Written on August 13, 2015 at 12:00 pm by Michelle
Filed under:
Musings
with tags:
blythecon
,
blythecon vancouver
The day started out very early for us – we got to the venue at around 7am to begin set up. BlytheCon Vancouver was hosted at the Sheraton Vancouver Wall Centre Hotel, located in downtown Vancouver, BC. It's a fairly central location in an area with a lot of hotels, a beautiful pubic park right in front, and easily accessible via public transit – all major selling points to us when we were deciding on a venue!
Vendors started coming in at 8am to start getting set up at their tables, and we had a small line-up forming of attendees who were eager to start having fun! Such early birds hoping to get the proverbial worm (or HANON dress, as the case may be):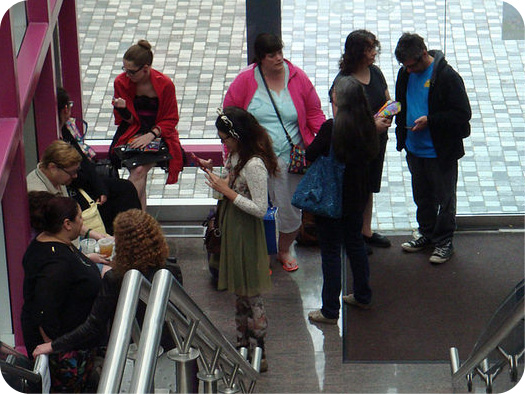 We had some photo displays set up for people to take photos, and some included props and stands or chairs so your own dollies could join in the fun! My favourite had to be the set up for the Vancouver 7 Kenner Blythe dolls. In the back is Lillian, Primrose, Heidi, and Chunk. In the front row and sitting is Dusty, Hayley, and Audrey. The fun thing about these dolls is that they were all originally owned by the same woman, and now they're all owned by members of the Vancouver Blythe Bunch (what we call our local doll group).