Written on April 21, 2016 at 4:00 pm by Michelle
Filed under:
Musings
It will be no surprise to you that I like cute things. Tiny shoes, pretty dresses, lovely dolls. I love them all.
I recently took the time to actually change the outfits (!) on a couple of my dolls to give them some love. I find that often times when I get into 'busy times' I neglect my dolls on a regular basis. This isn't done on purpose nor with malice. When I was in school, this happened because it was because of midterms, papers, projects, clinical, or finals (so basically whenever I was in school and should have been studying). Now that I'm working, it's because I work a lot, pick up shifts, and during my relatively rare downtime, I wind up making plans to be out of the house because I don't want to spend what precious time I have off from work cooped up indoors. But for me, Blythe is a primarily solo indoor activity when I'm not attending a doll meet – so by making plans to be out and about, this generally, means less dolly time. And I really like dolly time.
So, I made some time to redress some dolls. Not all of my dolls get neglected – often times Prim will get an outfit change, and so will Eden. I play favourites, what can I say? And then I took some photos because pictures, or it didn't happen.
I redressed Kindred and Belarus. I felt like these two had been wearing the same outfits for a while. I know Kindred's been wearing this dress for over a year at least! So this is the before: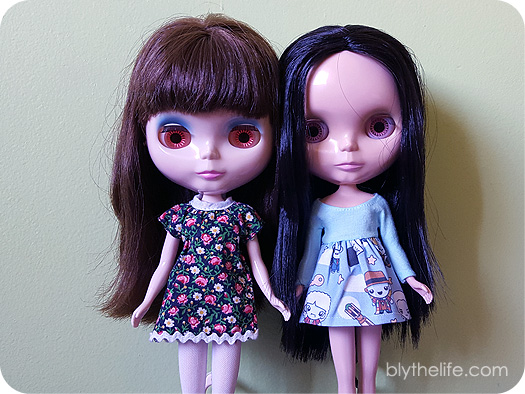 And this is the after: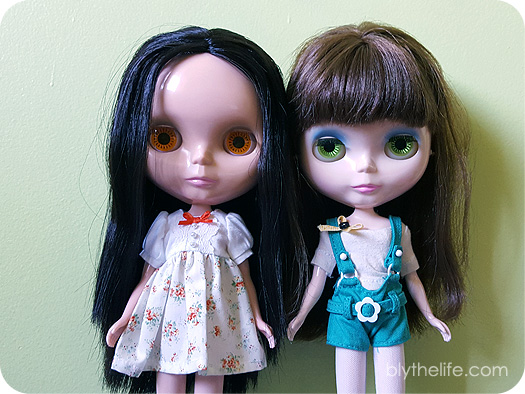 Do you fall into periods of doll neglect like I do? What makes you pick up the dolls and give them some attention again? Join the conversation below in the comments!
Belarus's wearing: dress/Puppy52Dolls (she was wearing dress/ericaduh).
Kindred's wearing: shirt/handmade (can't remember maker), shorts/Nostalgic Pop stock (she was wearing dress/unknown vintage).