Written on January 25, 2017 at 12:00 pm by Michelle
Filed under:
Article
with tags:
meets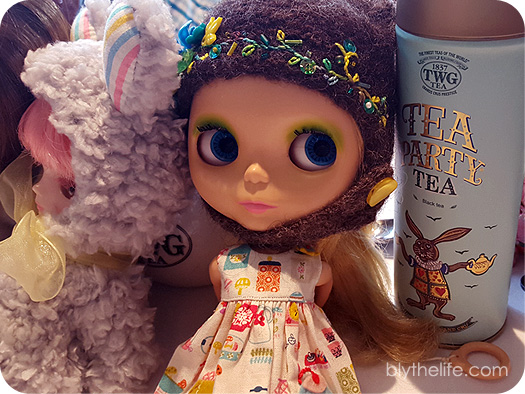 I love attending local Blythe meets. It's fun to see what new dolls someone has, or to see what someone is trying to destash (I love getting new-to-me clothes or shoes locally this way because it helps save on postage costs!). I really enjoy the company of my local doll friends, and a lot of the time we don't even talk about dolls! It's fun when we do talk about dolls though (and new dolls…!). Here are some fun activity ideas for Blythe meets:
Cookie decorating station – this can be made themed for an upcoming holiday and someone can prebake the cookie bases ahead of time. For Valentine's Day, perhaps some heart cookies with white, pink, and red royal icing and fun sprinkles?
DIY mini t-shirt decorating – this one will take a bit more planning, but if someone orders a bunch of plain doll tees (e.g. from Cool Cat), shirts could be decorated with embroidery, fabric markers, iron-ons (printed from a printer or store-bought), or little patches.
Button making – this one requires someone having a button maker, but everyone could draw out their own button design (perhaps a pull ring or an eye chip?) and then pin in to their doll bag!
Scrapbooking – A great way to use all those photos of Blythes we're always taking! It is surprisingly not that expensive to get photos printed these days, and a lot of scrapbooking supplies can be found at dollar stores or big box craft stores. Just make sure that you get acid-free papers and glues to prevent damaging the photos.
Tutu making station – I'm a huge fan of tutus and I even shared a tutorial here on BlytheLife on how to make an easy tutu! A roll of tulle can be fairly inexpensive (it can be found in floral shops as well as fabric/craft stores), and it's an easy tutorial that most anyone of any level of crafty ability can do.
Furniture painting/decorating – It sounds like a lot of work, but I've found that a lot of dollar stores and big box craft stores will carry 1:6 or 1:12 sized furniture (usually wooden) for fairly low prices. With a few bottles of acrylic paint and maybe some sand paper, your group could make some cute and one of a kind pieces in afternoon!
Do a present exchange – this is not limited to the month of December! Set a reasonable limit (say $10-15), have people bring in wrapped gifts for Valentine's, spring, Easter, summer, Halloween or just because. It's fun to receive presents, but it's even more fun to give! Make it doubly fun by making people do silly tasks to earn their presents (e.g. "bobbing" for gifts, or answering Blythe trivia questions!).
Host a sew-a-long – find a simple (free?) pattern online, and have everyone bring in some fabric or supply it to them. You'll need needles and thread, along with scissors and pins. Try one of the projects on BlytheLife, like the trimmed skirt or felt slippers.
Have a tea party – this for me personally combines my love of tea and love of dolls (and friends). My local group and I have done afternoon tea at some tea houses and it has always been a lot of fun, but it isn't cheap! Do it yourself at home with your friends, get everyone to bring in a light snack to share (some examples would include: mini cupcakes, chocolates, sandwiches, scones) and get your tea steeping!
Organize a swap meet – have everyone bring their gently used, but unwanted, clothes and shoes. Sell, trade, give away – and have everyone go home with something new-to-them. The easiest way to find joy in having something new without breaking the bank!
I hope these ideas come in handy when you plan your next Blythe meet! If you have any suggestions, share them below in the comments!