Written on November 25, 2016 at 12:00 pm by Michelle
Filed under:
Article
with tags:
holiday shopping guide
Welcome to the 2016 Blythe Holiday Shopping Guide! This is part 1 of a 3 part mini-series to help those who are trying to figure out what to buy for themselves, or what to buy for the Blythe-lover in their life. Part 1 is the $25 and under shopping guide!
I changed it up this year by asking BlytheLife readers to join in the Shopping Guide! There's still room in parts 2 and 3 of the Holiday Shopping Guide (feel free to scroll down for a bit more information).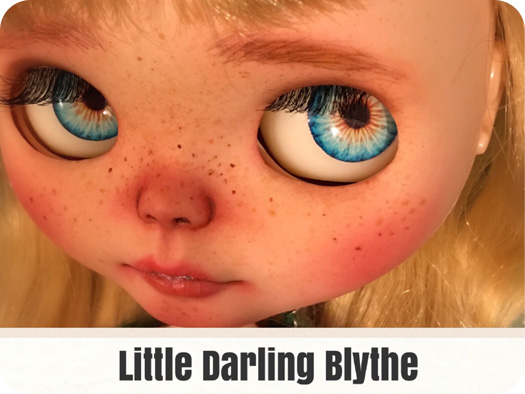 Do you wish your dolls didn't have the stock pink or orange eye chips anymore? Little Darling Blythe is an Etsy shop based out of the USA that sells hand casted resin eye chips for Blythe! Cute and affordable, at $6.50 USD a pair! If you've never changed out eyechips before, I can tell you that it's super easy because I'm able to do it (and here's a tutorial!). Little Darling Blythe is offering up 15% for your total purchase with the coupon code Ldb15.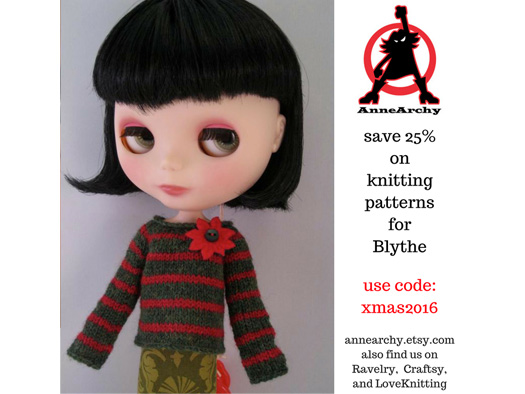 Are you a knitter? Have you always wanted to knit a little something for your Blythe dolls but weren't sure how to begin? AnneArchy has knitting patterns for you (or the knitter in your life, if you want to outsource the knitting aspect of it!). Her patterns span all three sizes: Petite, Middie, and Blythe! You can save 25% off your purchase with the coupon code xmas2016.
Do your dolls need a new holiday party dress? Endangered Sissy will have them covered! The new Fancy Schmancy collection is up right now, and with the coupon code BF2016 you can save 35% off anything that's in-stock (coupon code can't be used for holds or custom orders). It's Endangered Sissy's biggest sale of the year and the coupon code is good from now until 10pm MST, November 28th 2016.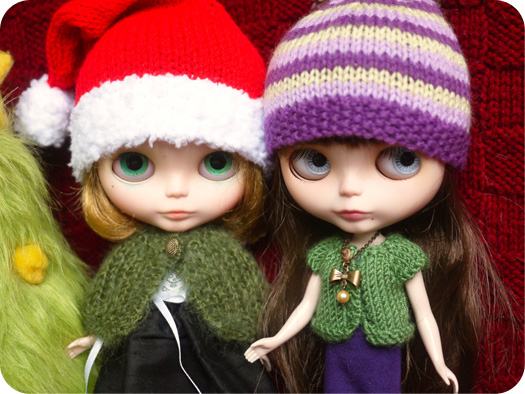 To finish off decking your dolls out from head to toe is Blythe Couture! Blythe Couture has cute dresses, darling separates, shiny baubles, and more! With the coupon code BlytheLifeCheer15, you can get 15% off your purchase at Blythe Couture from now until December 31st, 2016.
Part 2 of the 2016 Blythe Holiday Shopping Guide will feature gift suggestions that are $25-50, while Part 3 will be $50 and up. If you're an online shop owner and would like to be featured, please email me for more information at michelle@blythelife.com.