Written on August 5, 2015 at 12:00 pm by Michelle
Filed under:
Musings
with tags:
blythecon
,
blythecon vancouver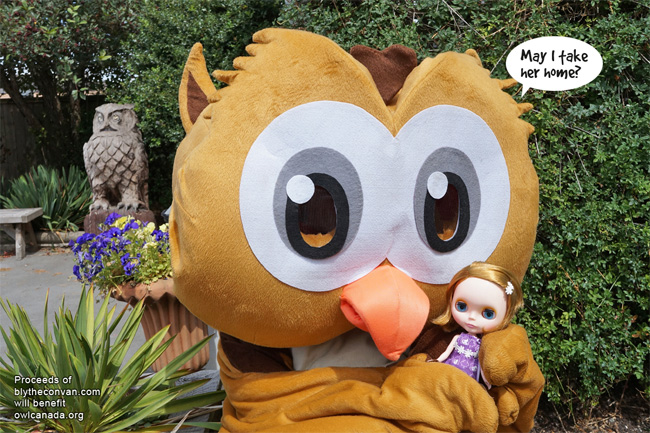 Photograph by Chun/Puppy52Dolls.
If you're coming to Vancouver, BC for BlytheCon Vancouver, here are some things that you might want to remember to bring along:
Doll stands for your dolls. Because most everyone will have similar stands (e.g. the clover stands), I would recommend putting a label on the bottom with your name or user name. This handy tip is borrowed from Louisa of Blythe Couture who always remembers to bring stands and she has them labelled!
Despite being in Canada, we do get a lot of sunshine – especially in the summer. I would recommend bringing a refillable water bottle, a hat, and sunscreen! Of course, mind the fluids/liquids restrictions for carry-on luggage. And if you are bringing bottled sunscreen and other toiletries – zipped top bags are your friends to prevent spillage and having clothes soaked through with sunscreen.
Your transit trip plans! We do have a public transit system here, Translink. This covers our buses, Skytrain, and sea bus! There is no "official" mobile app, but Translink does have a mobile website that is pretty handy for planning your trips. Look up your transit trips ahead of time to save time. There are many locations throughout Metro Vancouver that have free WiFi networks.
Bring a reusable shopping bag (or pick one up here for cheap!). A lot of grocery shops here charge extra for plastic bags (usually $0.05/bag). Help out the environment by bringing a reusable bag to carry out your purchases while you're here!
Chargers – for your phone, camera, laptop, and any other electronic devices that you plan on bringing along. Also, spare camera batteries and portable cell phone chargers/power banks are an excellent idea! If you are coming from outside of Canada, be sure to put your cell phones into airplane mode or purchase a travel plan so you don't get dinged with horrible roaming charges for hopping onto a Canadian cell network.
Copies of your flight information and contact details of whatever hotels you're staying at. Always a good idea to have a hard copy on you in case something happens to your phone/tablet/laptop computer (e.g. water submersion, down a flight of stairs…) or you realized you had uploaded all that information to Google Docs and the moment you need it, there's no free WiFi around and you didn't buy a travel plan for your phone.
Save travels to everyone who's venturing via car, bus, plane, boat, bike or feet to Vancouver for the weekend!
I will be at the pre-BlytheCon meet on Saturday, August 8th. I'll be the awkward one holding Sophie, the Cappuccino Chat that rules the wardrobe here with an plastic fist. While Sophie won't be attending BlytheCon Vancouver (she decided that needing to be at the venue at 7am for set-up was going to interrupt some far more important beauty sleep!), she will be hanging out the day before because that's more her style. For Sunday, August 9th, I will be bringing some dolls you may expect and some that you may not… Any guesses on who?