Written on August 21, 2015 at 12:00 pm by Michelle
Filed under:
Article
with tags:
tiny shoe love
This time on Tiny Shoe Love, I wanted to show case some shoes that aren't quite big enough for the feet of Neo or Kenner Blythe. I do have two Middies in my home that love shoes too (much to my wallet's disapproval). When I got my first Middie, I was suddenly face with the fact that I had this doll that came with a pair of boots that fit better on Neos than her own feet – what was I going to do? She can't go without shoes forever… or could she?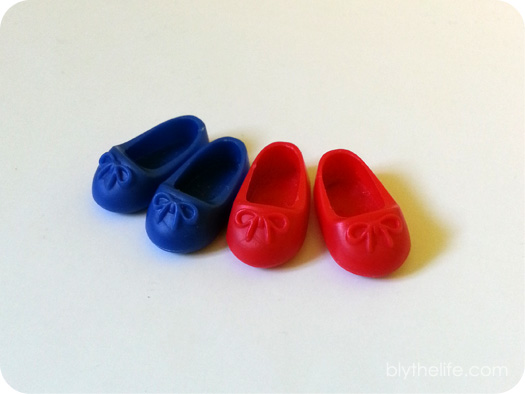 Luckily, eBay came to my rescue in the form of Kelly shoes lots! I read online that Kelly shoes can usually fit Middies well enough so I gave it a go. Thankfully, the shoes worked out okay! I got a few more pairs of Kelly shoes recently from a friend as a gift, so there's even more Middie-sized shoes to go around! I always feel lucky to have made such wonderful friends in the doll community!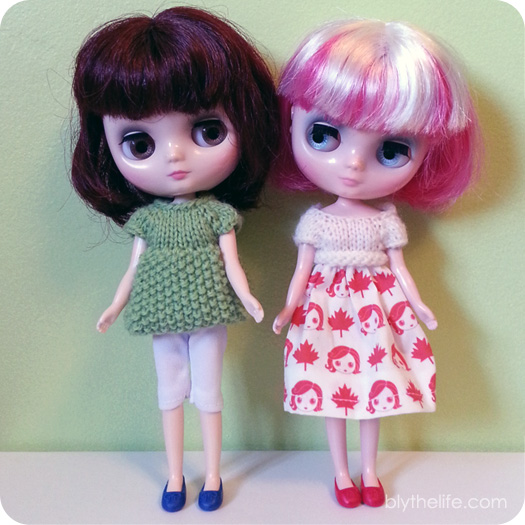 My favourites right now are these super cute flats that have a bow detail on them. I think they're great! I have them in blue and red only for now. I really like them though because they're simple enough that they don't distract from the outfits, but they also have a cute detail that I really like. I own flats for my own feet with bows, so I may be a little biased! At this time I only have a tiny amount of shoes just for the Middie girls, just six pairs for two sets feet! Hopefully that changes in the future – I'd love to get them shoes in white, black, and brown (my usual go-to shoe colours for their bigger counterparts).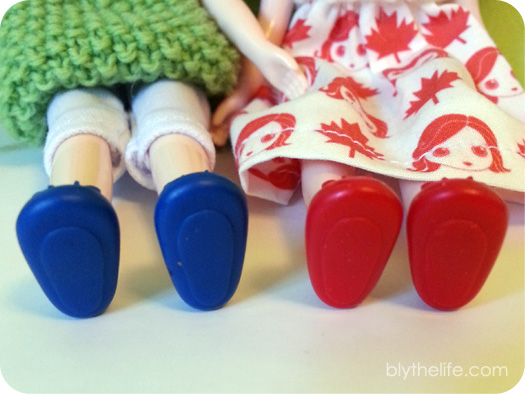 Tiny Shoe Love is a feature on BlytheLife.com to showcase and share doll shoes that grace Michelle's picky dolls' feet. We love tiny shoes in this house, and we hope you do too!
Lydia Melbourne's wearing: dress/chelleshocks, shoes/Kelly.
Kitty Brighton's wearing: top/chelleshocks, capris/unknown, shoes/Kelly.